Completed Customs
by Yvonne Johnson
2003
Please do not copy or use any images without written permission from Yvonne Johnson!
This is the Breyer Traditional scale "Huckleberry Bey" mold. I carved the frog/cleft/bars of left hind hoof, tweaked existing details, and thoroughly prepped him. I airbrushed him to slightly metallic shaded medium golden Palomino. He has a lighter belly and undertones with a darker topline, and has greyish shading around his eyes, muzzle, inner ears, and genitals. His mane and tail are white and cream mix. I gave him a white blaze/strip, with pink tint and mapping towards the muzzle. His flared nostrils have dark neutral red inside. He has beige chestnuts, and sports white socks on his one front and both hind legs, with pink tinted pasterns/heels and light mixed hooves. His other hoof is a dark mix. All hooves have lighter perioples and light soles. I painted his very detailed eyes with multiple colors and shading. He was finished with clearcoat protection, matte finish, lightly glossed nostrils, high-glossed eyes. Please click the image below to see more of him!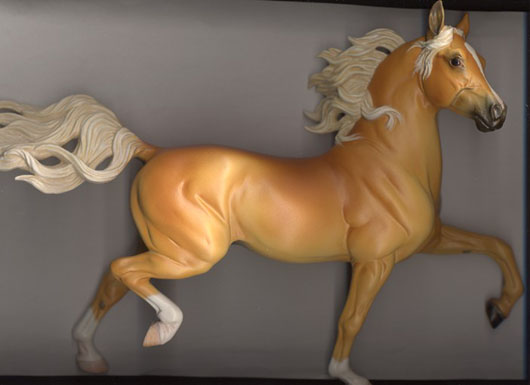 ©2003 by Yvonne Johnson
Thanks for stopping by, & please check in again later!
Please do not copy or use any images without written permission from Yvonne Johnson
---