Original Sculpture
by Yvonne Johnson
Copyright 1999, please do not copy images or sculpture in any form!
I have done sculptures in the past, through Ceramics classes I took in school. I was never happy with the results however, as I was not given the resources to make a detailed, realistic piece. Most people made pots & other like objects, but I wanted to do animal sculptures. I was limited to positions, etc, that would hold through firing in a Kiln with many other pieces from all the students. Sort of as a substitute, I began customizing (repainting & remaking) model animals, such as those by "Breyer". Then recently that old fire re-surfaced & I just had to sculpt! So I got all the supplies I needed to make a sculpture more to my liking. Below are some pictures of my progress....
If you would be interested in having me sculpt a horse or other animal for you, please feel free to contact me :o)
I recently removed all my in-progress pix , sorry! I do have my reasons. Besides, now you can see the most up-to-date images without sifting through the older ones. I apologize if you never got to see the progress & improvements....
All images are captured via video card.
-Western Pleasure Horse, about 2-1/4 inches tall-
A size comparison for you those of you with doubts (sinceI have had people comment):
Above is the actual sculpture, painted in white to make him more eye-pleasing at BreyerFest '99.
Please note: these pix were taken before more improvements were made.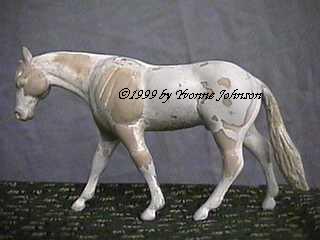 Here is another pic of the sculpture, after some improvements & stripping of most paint in preparation for casting as a resin.
After some delays, more improvements, a scare that he was lost in the mail, more unfortunate delays, this sculpture has now been cast as a resin!!! The very respectable Randy Buckler of "Resins by Randy" (aka "DaBar Express") is casting this model. He & his wife Deb sure do love this little guy!
Only a limited number will be available (planning on 30 at this time!). If you want to be sure you get one of these, you are more than welcome to reserve yours now! To see more, go here: "Mosey-On". Please drop me an email if you have questions, etc...
Thanks!
Now on to pix of an actual resin piece!!! As you will see, this model is quite detailed....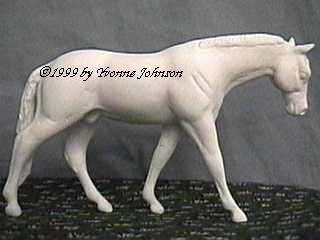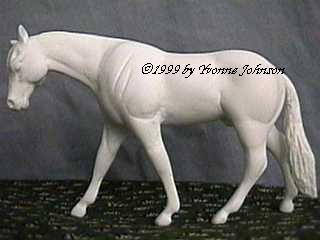 Above are simple side shots of "Mosey-On"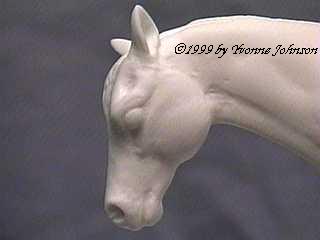 These are headstudies, so you can see the details a little bit. He is such a small horse, & white just makes it more difficult to capture here!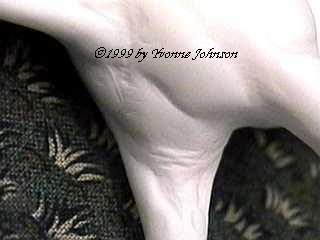 On the left is a closer shot of his nostril, so tiny! On the right you can see the wrinkles I sculpted at his legs!!!
Here you can see another detail: he has frogs!
There is a detail I hesitate to show as it may offend someone or something, though it is a natural part of all animals. So take that as a warning ;o). If you would like to see the pic, please click here.
Below are PHOTOS of an unpainted Mosey-On resin (from picture CD)
I would like to thank all of you who encouraged me to cast this guy. I am also grateful to Deb & Randy Buckler for their assurance & kindness....Thanks!
---