Completed Customs
by Yvonne Johnson
Black
Please do not copy or use any images without written permission from Yvonne Johnson!
This is the Breyer Traditional scale "Proud Arabian Mare" mold. I had to repair a broken ear & straighten a crooked front leg. I then went on to do the usual prep work. This model had the worst seams I have dealt with so far! After removing them & the mold mark, I carved her ears, face, muzzle, nostrils, chin, jowl, bridle-path, hooves, heals, & frogs. I also re-defined details of the mold. Then I added chestnuts & sculpted all appropriate parts under her tail & an udder/teats, so she is truly realistic. I spent a lot of time sanding. This is my very first airbrushed model! She has many layers of increasingly darker shades of grey, building up to black. This gives her shading & depth. She has a white pastern with a natural/shell striped hoof. That & her star were both masked off before airbrushing & then painted by hand. All her hooves have a lighter growth band at the top. Her eyes are detailed & glossed, her nostrils & hooves are glossed as well. Matte finish. She was custom ordered by Nancy H. of Wisconsin. More pix , just click below...
Painted in 1999.
©1999 by Yvonne Johnson










This is a L.E. "Mosey-On" resin. I sanded, prepped, then used primer. This one was the fourth piece ordered/painted, so he is engraved with the numeral four. I airbrushed him to a shaded black (for depth), details hand-painted. He has a star that is partially covered by his forelock- note the wispy hairs that fall into it :o). His snip between his nostrils is grey & pink. He has three white socks with natural/shell mixed hooves, the solid leg has a brownish grey/dark mixed hoof. All hooves glossed for the showring. His soles & chestnuts are greyish brown. His nostrils have a touch of neutral pink. Of course the eyes are detailed, with brown iris rimmed in dark brown, black pupil. Finished with protective sealer, matte finish, eyes & nostrils glossed. Custom ordered by Beth B. of Missouri, who requested a black with star, snip, & three socks. Please click the image below to see more angles...
Painted in 2000.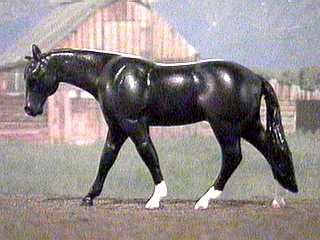 ©2000 by Yvonne Johnson










Note about Mosey-On orders: Due to the limited run of this resin & the fact that color possibilities are nearly endless for a stock-type horse, I do not plan on repeating colors I have already painted on him. I *may* make exceptions if Mosey is to be used as a portrait model of your real horse, but I won't guarantee it. Get your requests in quick if you wish to get a certain color! :o)
Also, in case you haven't been to Mosey-On's page to read it by now :o), I will reiterate my policies here: None of Yvonne's resins are to be changed in any way. Painted pieces must not be repainted, altered, etc. Unfinished
pieces (if any) must not be altered (no repositioning etc).











Thanks for stopping by! Please check in again later, to see what new things I have done :o)
Please do not copy or use any images without written permission from Yvonne Johnson
---