Completed Customs
by Yvonne Johnson
Chestnut/Sorrel
Please do not copy or use any images without written permission from Yvonne Johnson!
This is the Breyer Stablemate scale "Draft Horse" mold, slightly remade. I sanded the seams, removed the Breyer mark, carved the ears, jowl, mouth, & frogs, re-defined/sculpted mouth, eyes, & nostrils. I also sculpted leg feathering, a new mane & tail, & complete stallion anatomy. I airbrushed this guy to a shaded flaxen sorrel, with light underside, shaded body, dark shading on muzzle, inner ears & genitals, flaxen mane, tail, & legs. Hand-painted details. His eyes are tri-colored (brown iris, black pupil, tiny white light reflection) & glossed. Matte finished. He is now a very nice looking Jutland draft horse. Please click the picture below to see more....
Painted in 1999.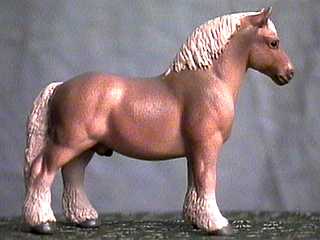 ©1999 by Yvonne Johnson










L.E. "Mosey-On" resin. I sanded, prepped, then used primer. This one was the eighth piece painted, so he is engraved with the numeral eight. I airbrushed him to a lovely shaded sorrel, with golden undertones, dark shading, & a metallic sheen all over. Looks stunning in person! He has darker shading on his muzzle, around eyes, eartips/edges, & groin, very dark shading on sheath. His mane & tail are flaxen, with multiple colors painted in to look more interesting & less flat like flaxens are often painted. This guy has lots of chrome! He has a wide blaze that extends to his upper lip, pink tinting between nostrils, mapping along his blaze on the muzzle. He has four white socks & natural/shell striped/mixed hooves. His chestnuts & soles are greyish-tan. Inner nostrils are neutral pink. Eyes have the usual detail: slightest hint of eyewhites, brown iris rimmed in dark brown (almost Amber eyes), black pupil. Finished with glossy protective sealer (can be made matte if new owner requests, I just felt the gloss brought out the metallic cast). Eyes glossed. This is an "Artist's Choice" color (not ordered in this color/pattern). No longer available for sale/trade, Lorre P. (who reserved an A.C. color) has chosen him! She has requested he be matted down a bit, so he is no longer quite as glossy. Please click pic to see more (of the glossy & current finish too)!
Painted in 2000.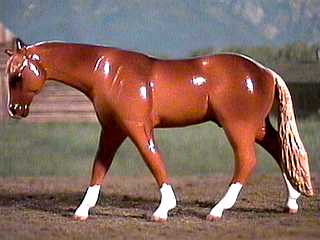 ©2000 by Yvonne Johnson










Note about Mosey-On orders: Due to the limited run of this resin & the fact that color possibilities are nearly endless for a stock-type horse, I do not plan on repeating colors I have already painted on him. I *may* make exceptions if Mosey is to be used as a portrait model of your real horse, but I won't guarantee it. Get your requests in quick if you wish to get a certain color! :o)
Also, in case you haven't been to Mosey-On's page to read it by now :o), I will reiterate my policies here: None of Yvonne's resins are to be changed in any way. Painted pieces must not be repainted, altered, etc. Unfinished
pieces (if any) must not be altered (no repositioning etc).











Thanks for stopping by! Please check in again later, to see what new things I have done :o)
Please do not copy or use any images without written permission from Yvonne Johnson
---