Completed Customs
by Yvonne Johnson
Please do not copy or use any images without written permission from Yvonne Johnson!
This is the Breyer Stablemate scale "Thoroughbred" mold, repainted by hand. In addition to sanding his seams & removing the Breyer stamp, I carved his ears & hooves, as well as some of the details that had been disappearing from the mold, like his mane, mouth, & nostril! I also carved his sheath so it looks like what it is supposed to be, not just a bump! LOL! He is now a flashy slightly metallic sorrel Paint gelding with darker shading & golden highlights, multicolored flaxen mane & tail, & detailed/glossed eyes. His front hooves are shell/natural, his rear hooves are dark brown. His muzzle is shaded a flesh tone, his nostrils are glossed, & he has a grey spot by his one nostril to give him personality & a unique trait. Matte finish. I began this guy with intentions to sell, but I've gotten pretty attached.... Please inquire if interested! Click pic below for further views!
Painted in 1998.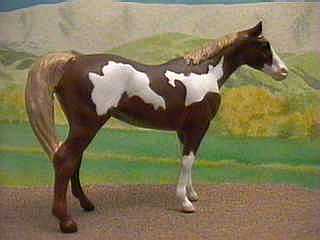 ©1999 by Yvonne Johnson










This is the Breyer Classic scale "Arabian Family Mare" mold (aka "Classic Arab Mare"). Seams & Breyer mark removed, sanded all over, hooves & all frogs/bars & heels carved, ears & jowl carved, mouth refined, right foreleg straightened (it is normally angled strangely inward on this mold), left ear straightened (it was at an outward angle), left nostril resculpted (was flattened), brow bones widened (eyes had been out further than the bones), cheek bones lengthened (her face looked to narrow from the side), chestnuts added, left rear toe sculpted (was chopped off by the factory), mare anatomy sculpted (she will have a foal eventually, so her udder is fuller) as well as those unmentionables ;o). I airbrushed her to a shaded mahogany bay Tobiano pinto, with details & whites painted by hand. She has red highlights, darker shading, & black points. All her legs are white, therefore her hooves are natural/shell striped with subtle growth bands. I gave her a white star, & a neutral pink tinted snip & spot on chin/lips. She has a multi-colored mane & tail, where the white & black blend nicely together using greys & browns. Her pinto patterns are mapped (also know as halos or shadows...when the dark skin runs into the white fur of the spots & shows through a bit). She has carefully detailed eyes (dark brown iris, black pupil, ultra-thin eyewhites, tiny highlight dot) & they are highly glossed of course. Matte finished. This mare was custom ordered by Caroline C. of Mississippi, who requested a bay Pintabian with a snip. I had fun making up the patterns & other markings :o). Please click on the picture below & take a look at more angles, close-ups & some details! Please note: she is not quite as dark as some of the images show, & the highlights are more red.
Painted in 1999.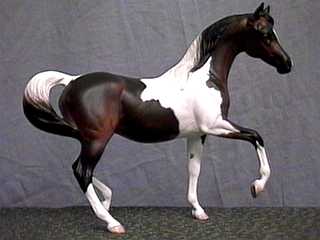 ©1999 by Yvonne Johnson










This is a L.E. "Mosey-On" resin. I sanded, prepped, then used primer. This one was the fifth piece painted, so he is engraved with the numeral five. I airbrushed him to what I originally intended to be a sandy bay Overo paint, but as I increased the color of the points towards black...well, I liked them dark brown! So at a glance he looks sandy bay or dark Buckskin, but he is really a dark Yellow Dun since he does not have black legs. So I added something I hadn't planned on: a dorsal stripe, which I airbrushed as well! He also has brown-tipped/edged ears & brown shading in his groin. I hand-painted the white areas with care to avoid unwanted brushstrokes, as usual. His white spots have subtle mapping along the edges. He has a white baldface which extends over one eye, around which is a subtle well blended pink shade demonstrating the thin hair in that area. He also has that same trait on his muzzle where the white covers it, but a greyish color on the right where the white is not, where the skin would be darker. In addition, he sports a grey spot at his upper lip, where there is pigmented "skin". Since the white extends so close to his ears, I decided to allow some white hairs to "grow" into his forelock. He has one stocking, with a natural/shell striped hoof. His other hooves are dark brownish grey/dark striped. His soles & chestnuts are greyish-tan. Inner nostrils are neutral pink. Eyes are detailed, but a twist this time: His right eye is brown with the black iris, but his left is a light blue with dark iris, since the area is "unpigmented". Finished with protective sealer, matte finish, eyes & nostrils glossed. This is an "Artist's Choice" color (not ordered in this color/pattern). Please click his pic below to see more of him....
Painted in 2000.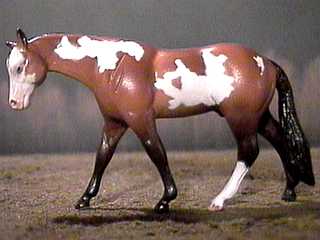 ©2000 by Yvonne Johnson










Note about Mosey-On orders: Due to the limited run of this resin & the fact that color possibilities are nearly endless for a stock-type horse, I do not plan on repeating colors I have already painted on him. I *may* make exceptions if Mosey is to be used as a portrait model of your real horse, but I won't guarantee it. Get your requests in quick if you wish to get a certain color! :o)
Also, in case you haven't been to Mosey-On's page to read it by now :o), I will reiterate my policies here: None of Yvonne's resins are to be changed in any way. Painted pieces must not be repainted, altered, etc. Unfinished
pieces (if any) must not be altered (no repositioning etc).











This is the Breyer Stablemate scale "Scrambling Foal" mold (I call it "frolicking"). Seams & Breyer mark removed, sanded, hooves & all frogs carved, ears resculpted & carved, chestnuts added, filly anatomy etc sculpted, mane altered slightly, tail raised. I hand painted her to a neutral grey & white. I then carefully etched each hair into the grey areas, allowing the white undercoat to show through (this is my first "etchie"). I painted her mane & tail a mix of grey, dark grey, & black...with a bit of white in her mane at the withers. I painted black appaloosa spots on her rump...pinto & appy patterns together make this little gal a "Pintaloosa". She has a cute wispy star, where the white follows the direction of the hair on her forehead. Her legs are white, with natural/shell striped hooves. She has mottling on the groin area, under her tail, & on her tailbone. Chestnuts & soles are tan. Her inner nostrils are light pink. Her eyes are detailed with the appy characteristic white sclera, brown iris rimmed in dark brown, black pupil. Finished with protective sealer, matte finish, eyes glossed. Click below to see more of her please!
Painted in 2000.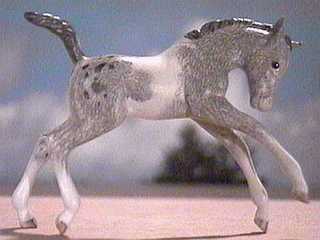 ©2000 by Yvonne Johnson
(Above model is also listed under "Appaloosa" & "Other Colors")
Thanks for stopping by! Please check in again later, to see what new things I have done :o)
Please do not copy or use any images without written permission from Yvonne Johnson
---